The story that started it all, the Saga of Doc Holliday: Southern Son, Dance with the Devil, Dead Man's Hand. The award-winning historical novel trilogy about the South's most famous Western legend, John Henry "Doc" Holliday. From his childhood in Civil War era Georgia to the wilds of Texas and the streets of Tombstone, Arizona, Doc's story is both an epic American adventure and an unforgettable love story. Click on the book covers to learn more and order your copies now!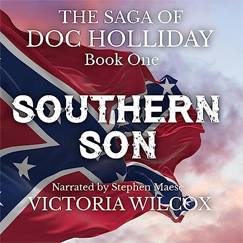 NOW IN AUDIOBOOK!
Southern Son
, the first book of the award-winning
Saga of Doc Holliday
trilogy is now available from Amazon, Audible and iTunes! Set during the turbulent times of Civil War and Reconstruction,
Southern Son
is a story of first love and family tragedy as a Southern son starts out on the road to Western legend. With a dramatic narration by Southern-born Stephen Maese, the story of John Henry Holliday comes to life as never before. Click on the book cover to order now!

The World of Doc Holliday: History & Historic Images. The award-winning pictorial biography is a narrative nonfiction account of the life of Doc Holliday, themed around his travels on the iron-horse railroads of 19th century America. Filled with over 150 vintage images of the people and places he knew in his adventurous life. The perfect companion to the Saga of Doc Holliday books and a must-read for Doc Holliday fans and anyone who loves the American West! Click on the book cover to learn more and order the book.