It's the beginnings of things that interest me: Doc Holliday before he became a Western icon; a Caribbean pirate who started out as a wealthy plantation owner; a Native American Indian chief who was descended from Scots royalty. Then curiosity takes over and I become a researcher, digging into archives and visiting museums and libraries, interviewing family members and historians, traveling to the places where the characters lived and the action happened. As I study, the facts fall into something like a plot and a theme begins to appear. The information fills file cabinets and fleshes out a timeline of the character's life. I turn the timeline into a skeletal chapter book, adding in my notes and the plot and action as far as I know it, so that before I begin the actual writing, there is something like a novel already waiting for me. You could print the pages and read through, and have a good idea of the storyline, the characterization, the ending. And then the real work starts.
Writing is a love-hate relationship for me. Sometimes it's easy and the words flow and I love it. Sometimes I struggle for hours or days with a single paragraph and I hate it. I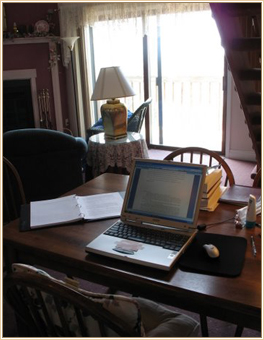 never have classic writer's block, running out of words. I have plot block, which is much worse, running out of story. It's when I can't figure out how to connect point A to point C that I really hate my life. And often it's not just a leap from A to C that I have to maneuver, but from A to E by way of B, C, and D, which are the logical suppositions that take the story from the history we know at A to the history we know at E – everything along the way being only plausible conjecture. Being constrained by the history is often harder for me than having nothing but my imagination to guide the story. I can imagine all kinds of things. It's imagining them within the confines of known history that is challenging. But somehow it all works out and the paragraphs turn into pages that turn into scenes that turn into chapters that turn into a book – or two or three.
Continue reading