The name Doc Holliday conjures images of the Wild West and the shootout at the OK Corral, but before he was a Western legend he was a Southern son, born in the last days of the Old South with family links to Gone With the Wind. Now this amazing story is told for the first time in The Saga of Doc Holliday.

The story begins with Southern Son, set during the turbulent times of the American Civil War, as young John Henry Holliday welcomes home his heroic father and learns a terrible secret about his beloved mother. His only confidant is his cousin Mattie, the childhood sweetheart who shares his memories of plantation life and better days before the War. But Mattie isn't around to comfort him when tragedy strikes and John Henry's young hero-worship turns to bitter anger.

As the Confederacy falls, John Henry becomes a troubled teenager and joins in with a gang of vigilantes trying to chase the Reconstruction Yankees out of their small Georgia town. But when a murderous plot brings threats of military prison, he vows to change his reckless ways and leaves Georgia to attend dental school in Philadelphia, hoping to come home as a respected professional man worthy of asking for his cousin Mattie's hand.

But as he returns from two years in the Yankee north to begin dental practice in Atlanta, he finds his courtship beset with challenges. There are family intrigues, lies and revelations, rivals for Mattie's affections, and a violent encounter that changes everything.

Southern Son is the first novel in an epic tale of heroes and villains, dreams lost and found, families broken and reconciled, of sin and recompense and the redeeming power of love.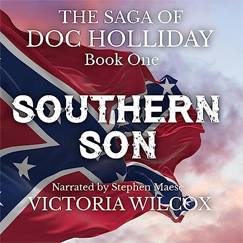 NOW IN AUDIOBOOK! Southern Son, the first book of the award-winning Saga of Doc Holliday trilogy is now available from Amazon, Audible and iTunes! Set during the turbulent times of Civil War and Reconstruction, Southern Son is a story of first love and family tragedy as a Southern son starts out on the road to Western legend. With a dramatic narration by Southern-born Stephen Maese, the story of John Henry Holliday comes to life as never before. Click on the book image to order now! Get your copy now!



Cast of Characters
Meet the people of Southern Son

(Photo: John Henry Holliday b. August 14, 1851)

Photo Album
| | | |
| --- | --- | --- |
| | | See the places in Southern Son |

Family Tree
| | | |
| --- | --- | --- |
| | | Trace Doc Holliday's family connections |

Maps

The Music of Southern Son
The story of Southern Son is full of references to the music of the time. Some of those songs are listed below. Although the images on these YouTube videos are not mine, the songs evoke the spirit and story of Doc Holliday's world. Enjoy!
"Dixie"
"The Water is Wide"
"Amazing Grace"
"Liebestraume" (Song of Love)
"Abide With Me"

For Further Reading
While my own background reading filled entire bookcases, I can recommend the following for those interested in reading more about John Henry Holliday and the world of Southern Son.
Doc Holliday: The Life and Legend, Dr. Gary L. Roberts, John Wiley & Sons, Inc., 2005
In Search of the Hollidays: The Story of Doc Holliday and his Holliday and McKey Families, Albert S. Pendleton, Jr. and Susan McKey Thomas, Lowndes County (Georgia) Historical Society, 2008
The Irish Roots of Margaret Mitchell's Gone With the Wind, David O'Connell, Claves & Petry, Ltd., 1996
Road to Tara: The Life of Margaret Mitchell, Anne Edwards, Dell Publishing, 1984
Southern Honor: Ethics & Behavior in the Old South, Bertram Wyatt Brown, Oxford University Press, 1982

Reading Group Questions