It's the dramatic final duel between Doc Holliday and his alter-ego nemesis, Johnny Ringo, in the classic Western film "Tombstone," as Doc shoots Ringo dead and comments wryly, "the strain was more than he could bear." Although that's not what really happened (Doc wasn't even in Arizona when Ringo died), there's a reason screenwriter Kevin Jarre wrote it that way: this is drama not documentary, and the rules of
Westerns demand that the sort-of good guy kill the bad guy in the end.
And in this Western, Doc Holliday and Johnny Ringo have not just one, but three duels—and all of them portray Doc as the defender of his one-true friend, Wyatt Earp.
DUEL #1: In the first duel, a faro-dealing Wyatt is threatened by the cowboys, until Doc steps in and bests Ringo in a fast-draw contest: Ringo's gun versus the drunk dentist's whiskey cup.
DUEL #2: In the second duel, a drunk Ringo challenges Wyatt on the streets of Tombstone, until Doc steps in and announces, "I'm your Huckleberry, fightin's just my game," and the cowboy backs down. (For what the famous phrase means, see my blog post here.)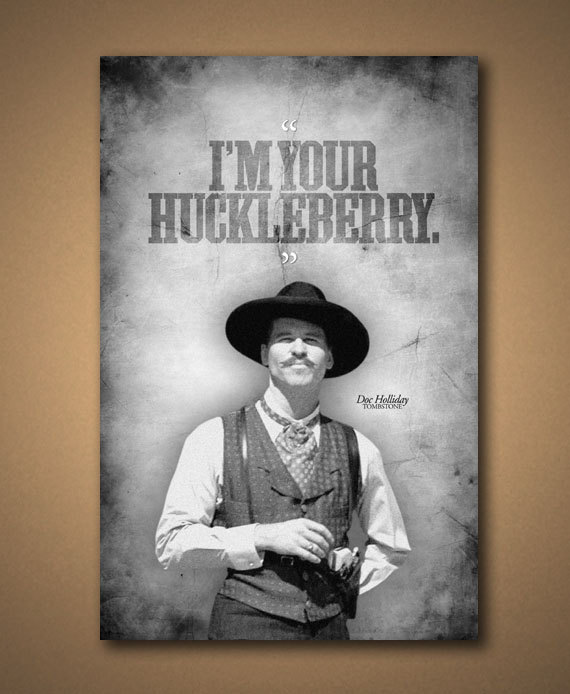 DUEL #3: In the third and final duel, Wyatt is on his way to meet Ringo in a shooting match he will surely lose, until Doc steps in and finishes off the cowboy with one bullet to the head. Three times Doc Holliday has defended Wyatt Earp from Johnny Ringo, showing his loyalty, while fulfilling the "good guy kills the bad guy" rule of Westerns. And it's only fair that Doc gets to kill Ringo, as Wyatt kills his own nemesis, the cowboy leader, Curly Bill Brocious.
But that, too, is just movie reel drama—in the real world, Ike Clanton was the cowboy leader (a much smarter man than the film's character) while Curly Bill was just a junior associate. But Wyatt didn't kill Ike (who got away to be killed another day by another man), he killed Curly Bill, so Kevin Jarre smartly made Curly Bill the head bad guy to be killed by head good guy Wyatt. Which is one of the reasons we all love "Tombstone": it's good literature as well as good drama, with all the characters doing just what we want them to do and right winning out in the end. "Tombstone" isn't history; it's Historical Fiction, a drama based on historical events but telling a literary story.
Which is also what Doc fans will find in my award-winning historical novel trilogy The Saga of Doc Holliday which dramatizes Doc Holliday's life from his boyhood in the Civil War South to his dealings in Tombstone and beyond. It's a history-based retelling of Doc's adventures, bringing the past to life like "Tombstone" brought the events surrounding the O.K. Corral gunfight to life, becoming a classic Western. Isn't that a daisy?
Fun Links:
Read True West Magazine's tribute to screenwriter Kevin Jarre.
Watch the Lego version of Doc and Ringo cup duel .
Buy the "I'm Your Huckleberry Poster" .
Read the "Tombstone" script.
Click the book cover below for more info or to order.