Mattie Holliday, Doc's cousin and rumored sweetheart, was quoted as saying, "He was a much different man than the one of Western legend." He was also a lot more interesting, with travels that took him far beyond the OK Corral. But did Doc take a Florida beach break, as well? That's the surprising direction the research goes, as historians continue to explore the unanswered questions of why – and how – Doc Holliday left Georgia. And one of the most intriguing of the answers comes from someone who knew Doc personally: Dodge City lawman Bat Masterson.
In his later years, Bat became a reporter and did a series of stories about the famous characters of the American West, including an article about Doc Holliday. The story, published in 1907 in a Boston, Massachusetts magazine, tells a tale of murder and escape set during the troubled times following the Civil War. According to Bat, there was a swimming hole on a little river near to the south Georgia village where Doc Holliday was raised, and where he one day came across some black boys swimming where he thought they shouldn't be. He ordered them out of the water and when they refused, he took a shotgun to them, causing a massacre. His family thought it best that he leave the area, and he moved to Dallas, Texas. Although the report of a massacre isn't likely, there are some interesting points to Bat's story: Holliday did, in fact, live in a little village in South Georgia, the town of Valdosta, near where there is a river named the Withlacoochee, along which Doc's family owned some land. And when Bat's story was published and the family later asked about it by another reporter, they said that Holliday fired over the boys heads, not at them – but they did not deny the shooting.
So let's say that Doc Holliday did have to make a fast exit out Georgia after a violent incident. What route would he have taken? An easy escape would be crossing over the nearby Georgia state line into north Florida, where his McKey uncles owned a place called Banner Plantation in Hamilton County, and from where he could take a train west to the port city of Pensacola with regular sailings to Galveston, Texas. And north of Galveston, he had another McKey uncle who owned a plantation along the Brazos River. So not only was the story of a shooting on the Withlacoochee River acknowledged by the family, but he had family nearby to help him make his getaway. But is there any real proof that Doc Holliday went west by way of Florida? Maybe so, if another old story is true.
This story was told by a junk dealer in the little town of Waycross, Georgia, close to the Okefenokee Swamp and far from anywhere else. There was an old house that had recently been left vacant when its elderly owner passed away, and the junk dealer was given some of the items found remaining in the attic. Among them was an old trunk that contained some useless items: a wooden cross that looked like it might have once been a grave marker, some faded photos…and a pile of letters postmarked Pensacola, Florida. Only the signature on those letters made them at all interesting: John Henry Holliday, which the junk dealer recognized as the real name of Georgia's most famous Western legend, Doc Holliday. But he'd never heard of Doc being in Pensacola or any other Florida town, so he threw away the photos and the letters and sold the trunk to a customer who liked antique boxes.
What the junk dealer didn't know was that Holliday's cousin Clyde McKey, his uncle's youngest daughter, had family living in Waycross, and the box and the photos and the letters had likely once been hers, sent by John Henry Holliday as he stopped over in Pensacola on his way West. So although Florida may not have been a real beach vacation, it likely was a getaway for Doc Holliday!
August 19, 2013 Victoria Wilcox ABC WEAR-TV in Pensacola, FL for the Dayside Program interview with Sue Straughn. Watch the full interview here: WEAR-TV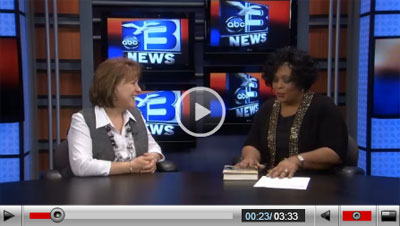 Victoria Wilcox and Sue Straughn of ABC WEAR-TV
Pensacola, FL
Interesting Links
Click the book cover below for more info or to order.