Buy The Saga of Doc Holliday books from your favorite local bookseller, or from these retailers:
Click on the books to explore the world of Doc Holliday, watch a trailer, or read sample chapters.
"A stellar piece of fiction based on fact that brings Doc Holliday back to life."
"For those enamored of Western legends, Gone with the Wind, or American history in general, this grand epic will be a must-read."
"Rivals other historical novels like Gettysburg and Killing Lincoln."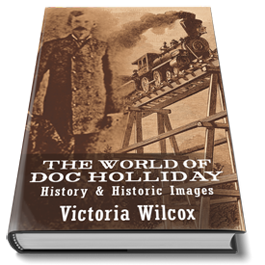 And coming Fall of 2020 from TwoDot Books/Globe Pequot: The World of Doc Holliday: History & Historic Images by Victoria Wilcox. A narrative nonfiction account of Doc's travels on the railroads and trails of 19th century America, with over 140 vintage images of the places and events that filled his adventurous life. A must for fans of Doc Holliday, the Wild West, and American history! Pre-Order info coming soon!